Conometric solutions training
for Cement & Screw free
chairside restorations
with patented lifting
technology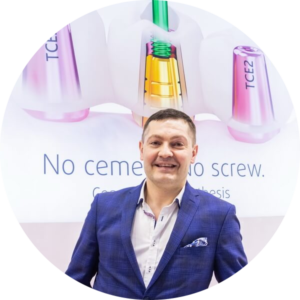 "The surgery today can be simple and predictable. Innovative solutions unilimit your capabilities, improved implantation methods help to avoid difficult and complicated operations."

Dr. Dainius Karpavičius
Join Dr. Dainius Karpavicius on his signature Workshop for Conometric solutions.
Enjoy the unique experience of professionally organised training in a group of  professional participants.
Learn the advanced techniques and best practices how to fix denture without
cement and no screws:
Practice on jaw models with real conometric fixation

Analysis of different clinical cases & applications

Choosing the right implants & components

Study how to place Pterygoid implant
During the training, participants will place different types of implants for the rehabilitation of the upper jaw.
Price: 799 euro for members of the ODC
Offer include
– Conometric solutions training
– Twin-room for 2 Drs for 3 nights 
– City & Factory tour
– Fine dining experience
– EU visa invitation
July 25, 2023 – Radisson Blu Hotel Kaunas check-in
July 26, 2023
Conometric Solutions Training by Dr. Karpavicius

Dinner at Kaunas city center
July 27, 2023
Tour to TRATE factory

K

aunas city tour with local guide

Special evening at the Monte Pacis restaurant with 4-course degustion dinner
July 28,2023 – Radisson Blu Hotel Kaunas check-out
Info & registration:
kom. +48 797 300 893
e-mail: sales@pro-trate.pl
Justyna Skura
kom. +48 797 097 838
tel. 22 525 26 79
e-mail: event@pro-trate.pl
This Event on Facebook:
https://fb.me/e/3nCzx3zm7