Conometric solutions training
for Cement & Screw free
chairside restorations
with patented lifting
technology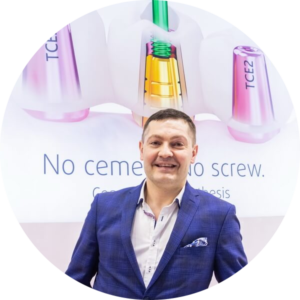 "The surgery today can be simple and predictable. Innovative solutions unilimit your capabilities, improved implantation methods help to avoid difficult and complicated operations."

Dr. Dainius Karpavičius
Join Dr. Dainius Karpavicius on his signature Workshop for Conometric solutions.
Enjoy the unique experience of professionally organised training in a group of  professional participants.
Learn the advanced techniques and best practices how to fix denture without
cement and no screws:
Practice on jaw models with real conometric fixation

Analysis of different clinical cases & applications

Choosing the right implants & components

Study how to place Pterygoid implant
During the training, participants will place different types of implants for the rehabilitation of the upper jaw.
Congress only – 1500 PLN or 336 EUR
Inclusive of 1-day Open Dental Community Congress
Conometric solutions training only – 2500 PLN or 560 euro
Inclusive of Conometric solutions training (half-day)
11.06.2021 Open Dental Community Congress
12.06.2021 Workshops
09:00 – 13:00 Workshop 1.
14:00 – 18:00 Workshop 2.
Info & registration:
+48 722 722 360
info@opdeco.org
This Event on Facebook: